Detailed Technical Sessions Schedule found HERE
Schedule At A Glance
Monday, September 25, 2023
11am: Golf Outing Registration and Lunch
Eagle Creek Golf Course
You must be pre-registered for the golf outing.
12pm: Golf Outing Tee Time
5:00 – 7:00 pm: Welcome Cocktail Reception
Hyatt Regency

Tuesday, September 26, 2023
8am – 5pm: Technical Sessions
Hyatt Regency
Lunch: Keynote Speaker, Jennifer Pryz
"Clearing Hurdles and Sprinting toward the Finish Line – IndyGo's BRT Success Story"
6pm – 8 pm: Social Reception
Eiteljorg Museum

The Eiteljorg is a 10 min walk along Washington St. A shuttle service throughout the event is also available – meet in the Hyatt Lobby near Starbucks.

Walking map found HERE

Wednesday, September 27, 2023
8am – Breakfast and directors meeting
Hyatt Regency
Tours– Time TBD
Perry K Steam Plant
Deep Rock Pump Station

Keynote Speaker – Jennifer Pryz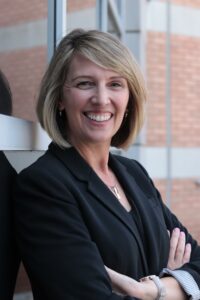 Jennifer Pyrz, PE is Chief Development Officer at IndyGo, where she is responsible for the agency's strategic planning, engineering and construction initiatives. Jennifer has more than 25 years of experience in the transportation industry. In her early years in the private sector, Jennifer was responsible for managing and providing technical analysis for a diverse range of projects including environmental studies, traffic forecasting, transit analyses, transportation plans, BRT construction, and architectural design. In April 2020, Jennifer took the leap to the public sector and is now enjoying the opportunity to work on all transit all the time! Jennifer and her team are responsible for development of IndyGo's three Bus Rapid Transit Lines, new East Campus Administrative, Fleet Terminal and Maintenance Facility and other infrastructure projects, as well as the agency's many planning initiatives in areas such as micro-mobility, transit-oriented development, and network planning. Jennifer received M.S. and B.S. degrees in civil engineering from Purdue University in 1995 and 1997 respectively. She serves on the Advisory Board for WTS of Greater Indianapolis, Board of Directors for Midtown Indy, and is a Past President of Indiana Institute of Transportation Engineers.
"Clearing Hurdles and Sprinting toward the Finish Line – IndyGo's BRT Success Story".
Creating transformative transit systems has never been easy, but success in Indianapolis comes from taking it all in stride. Jennifer Pyrz will reflect on what it has taken to build Indianapolis' Bus Rapid Transit (BRT) system in today's political and economic landscape. From legislative actions to decaying infrastructure and pandemic impacts… despite the hurdles that pop up in their path, the multi-agency team that is supporting IndyGo's BRT development has never lost focus of the goal: to improve our city's mobility options.
.